Akhtar Saeed Medical College Rawalpindi, established in 2023, is a prominent addition to the field of medical education and healthcare in Pakistan. Operated by the esteemed Akhtar Saeed Group of Health Institutes, known for its three decades of commitment to healthcare and medical education, this institution has quickly gained recognition and accreditation as an A+ category medical college.
Strategically located in the picturesque Baharia Golf City at the foothills of a scenic mountain, the college offers an environment conducive to learning and personal growth. The purpose-built campus features modern facilities, including custom-designed hostels and residential accommodations for students, ensuring a comfortable and nurturing atmosphere.
One of the key strengths of Akhtar Saeed Medical College is its affiliation with Farooq Teaching Hospital, a state-of-the-art tertiary care facility. This hospital covers 23 specialties, ranging from internal medicine and surgery to cardiology, urology, neurosurgery, and more. It boasts critical care units like ICU, CCU, PICU, and NICU, providing comprehensive medical services to the community.
The college itself is equipped with cutting edge laboratories, museums, lecture halls, and an auditorium for academic activities. A well-stocked library, both physical and digital, caters to the research and study needs of students, ensuring they have access to a wealth of resources.
Akhtar Saeed Medical College follows a curriculum approved and recognized by the Pakistan Medical & Dental Council, emphasizing excellence in medical education and practice. The institution is affiliated with the University of Health Sciences and employs a hybrid modular curriculum with subject-based assessments at the end of each term.
In conclusion, Akhtar Saeed Medical College Rawalpindi, part of the Akhtar Saeed Group's legacy of healthcare and education, is a distinguished medical institution in Pakistan. With its top-notch facilities, dedicated faculty, and affiliation with a cutting-edge hospital, it stands as a beacon of medical excellence, poised to produce skilled healthcare professionals for the future.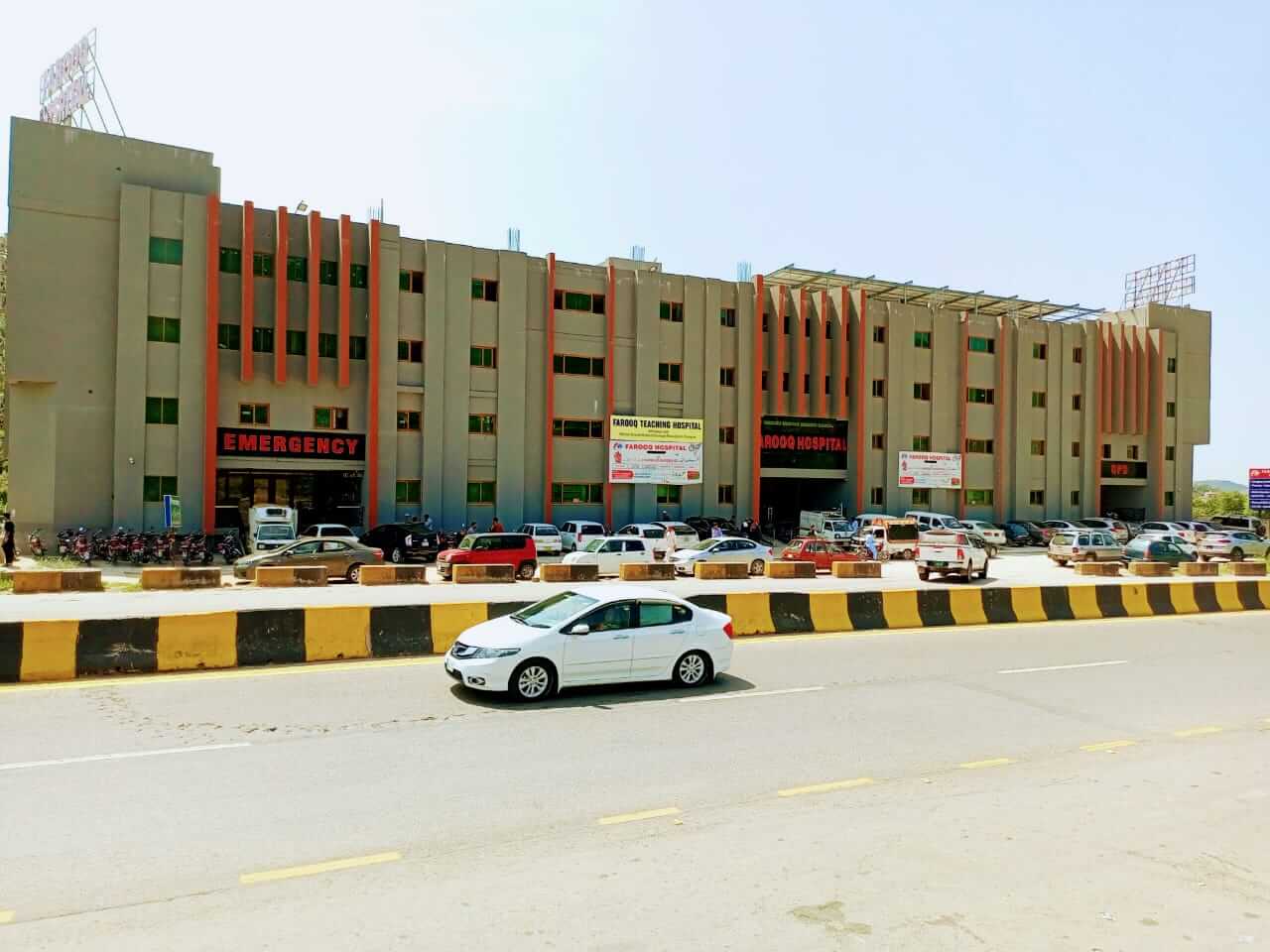 Farooq Teaching Hospital, affiliated with Akhtar Saeed Medical College, is a prominent institution in the field of healthcare and medical education. With 500 beds, it exemplifies modern healthcare infrastructure, focusing on compassionate care, innovation, and education.
The hospital's foundation is rooted in a commitment to deliver advanced medical services to its community. Its meticulous planning and architecture cater to diverse healthcare needs. A spacious layout and state-of-the-art facilities create a nurturing environment for patients and medical professionals.
The hospital offers 23 fully functional clinical specialties, covering Internal Medicine, Nephrology, Gastroenterology, Dermatology, Cardiology, Psychiatry, Surgery, Urology, Orthopedics, and Neurosurgery. Additionally, it houses departments for Physiotherapy, Ophthalmology, ENT, Radiology, Pathology, Anesthesiology, Intensive Care, and more.
Specialized units for Pediatrics, Neonatal Care, and Pediatric Intensive Care provide top-notch care to vulnerable patients. The hospital's connection with Akhtar Saeed Medical College fosters a dynamic learning environment, nurturing future healthcare professionals.
Farooq Teaching Hospital's legacy is one of compassion, dedication, and unwavering commitment. It holds CPSP approval for postgraduate training in several subjects and is certified by the Punjab Healthcare Commission and ISO, emphasizing its dedication to quality healthcare standards.
This institution's remarkable journey is a testament to its significant impact on healthcare and medical education, making it a beacon of excellence in the field.